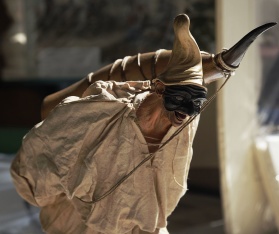 The accidental triumps of Pulcinella, prince of everything
For alto flute, clarinet, percussion, violin, viola, cello and piano (2017)
Commissioned by Norrbottensmusiken for NEO Norrbotten
Duration: 21 minutes

I. Sinfonia -
II. Scherzino -
III. Serenata -
IV. Toccata


The piece starts at approx. 57 minutes in:
Live recording from the perfomance at the Great Hall at Musikaliska in Stockholm, during the national festival for new music, Svensk Musikvår, the 26th March 2017.

performed by NEO Norrbotten, conducted by B Tommy Andersson:
Sara Hammarström, alto flute and piccolo, Robert Ek, clarinets, Daniel Saur, percussion, Mårten Landström, piano, Brusk Zanganeh, violin, Kim Hellgren, viola and Elemér Lavotha, cello.

The ensemble NEO Norrbotten wanted a piece that relates to an older piece of music - and I chose "Pulcinella" by Stravinsky, originally ballet music, which was Stravinsky's first neo-classical piece of music, and where he uses music by Pergolesi. My piece is therefore music that relates to older music that relates to older music...

Four mouvements from the Pulcinella Suite by Stravinsky are used in the piece, and I utilise melody fragments, tone series, harmonies etc from it, and combines it with my own musical styles as well as fragments from earlier pieces by myself.

The piece was premiered in Studio Acusticum in Piteå, Sweden, during the festival New Directions, the 25th March 2017.