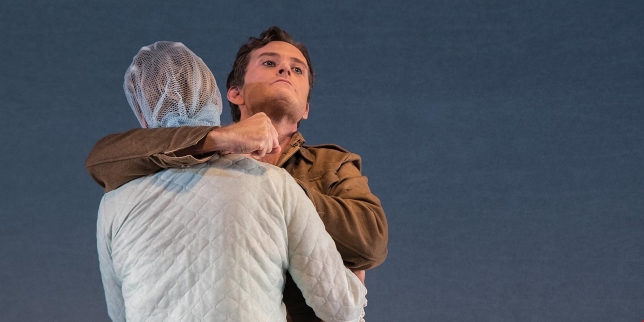 Commissioned by The Royal Opera in Stockholm
Duration: appr 20 minutes
Libretto: the play "Roberto Zucco" by Bernard-Marie Koltès, translated by Göran O Eriksson, adaption by Katarina Aronsson & Johan Ullén

Characters: The Girl (soprano)
Her Sister (soprano)
Zucco (tenor)
His Mother (alto)

Orchestra: 16 musicians (1*111 - 0110 - piano/celesta, harp, percussion - strings: 22111)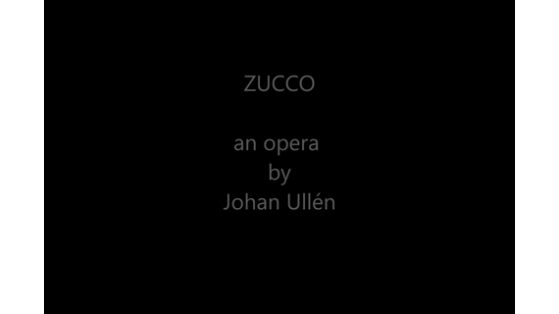 An excerpt from the perfomance at the Rotundan stage at the Royal Opera in Stockholm the 22th October 2016.

Background: Roberto Zucco, a convicted murderer, has escaped prison and visited his mother in order to fetch his "combat clothes", whereafter he kills his mother during their farewell embrace. In the next scene, we meet the girl and her sister, who is furious with her. The girl has been away all night and made her sister frantic with fear. When the sister finally leaves the kitchen, the girl opens the window to let in the person she has spent the night with: Roberto Zucco, the serial killer.

What happens in the clip (sung in swedish): The girl has hundreds of questions for Zucco. He answers them with great imagination: he claims to be a secret agent, that has visited Africa and even seen the snow on the icy lakes of Africa... He also shows her his weapon, a small knife.
When she finally asks for his name, he says that it is impossible for him to reveal it. She declares that she really knows how to keep a secret, and at last he gives in, revealing his identity. A sound is heard and she asks him to hide (her parents and sister is in the other room). She says that he took her virginity, and it is for him to keep and he will have it for the rest of his life, like a scar after a fight.


Performers in the clip:
Karin Andersson, The Girl
Jon Nilsson, Zucco
Orchestra of The Royal Opera
James Grossmith, conductor
Mårten Forslund, director


The opera "Zucco" was commissioned by The Royal Opera as part av the show
Short Stories
, and was premiered at the Rotundan stage at The Royal Opera, the 19th october 2016.
The piece is based on two scenes from the infamous play "Roberto Zucco" by Bernard-Marie Koltès. The play is based on the true story of the serial killer Roberto Succo, wanted and hunted by the police in France, Italy and Switzerland.
The Royal Opera introduced the opera with these words:
"Two scenes from Koltès famous play about the mass murderer Roberto Zucco. The young Roberto escapes from prison where he had been imprisoned for the murder of his father. He goes home to his mother and then hits a young girl who falls in love with him. Who is Roberto's next victim?"
The two scenes are two be regarded as a kind of teaser, a "pilot" if you will, for a full-length-opera about Roberto Zucco.
Ecxerpts from reviews of the premiere of Zucco:

"The story about the Italian serial killer Roberto Succo has already been dramatized by Bernard-Marie Koltés. Johan Ullén's contribution, Zucco, is based upon this play, and it is a dark thriller with lyrical moments becomes the most consummate piece of the evening. Two murders, a love aria from mother to son and a teenage rebellion is included, without being rushed. Jon Nilsson as Zucco and Karin Andersson as The Girl meet in a love story that you know isn't going to end well."

Loretto Villalobos, Aftonbladet


"The scene where the psychopath Zucco meets his mother, was a emotionally loaded thriller that didn't stand far behind Puccini. While the young girl's confrontation with the beautiful murderer made you think of Elsa's questioning of the nameless Lohengrin in Wagner's opera. It is obvious that Johan Ullén has the capacity make a full-length opera of Koltès play."

Camilla Lundberg, Dagens Nyheter